Sage Intacct

Dimensions
Sage Intacct Dimensions enables you to track your business like never before.
Overview
Benefits
Features
TRACK YOUR BUSINESS LIKE NEVER BEFORE
Sage Intacct Dimensions is a helpful feature for multi-entity businesses to help organise, sort and report company information in a way that makes the most sense to you. Dimensions accounting designates each business unit as its own dimension, so you can choose from a pre-set list instead of dealing with thousands of entities.
The list of dimensions includes location, department, project, customer, vendor, employee, item, and class. Or you can create custom dimensions unique to your business to track and report on your data efficiently.
SAGE INTACCT DIMENSIONS BENEFITS
Keep a lean chart of accounts
Unlike accounting systems that rely on a long list of segmented linear accounts, Sage Intacct dimensions are maintained independently so you can expand your insight while keeping a lean set of account codes. Even as your business changes, you can evolve tracking without cluttering the chart of accounts.
Get greater depth of reporting & insights
Easily add your own dimension attributes to provide deep transaction context without ballooning the chart of accounts or dimension list. Use these attributes to surface insights by filtering dashboard views or report outputs.
Improve managerial insights
Assign dimensions to the accounts where you need them, then harvest insights. You can even add statistical tracking with dimensional insight. With dimension pivots in reporting, easy dimension grouping and drill into transaction detail with supporting documents, you can deliver clear insights to decision-makers on demand.
Let's Talk
Are you interested in learning how Sage Intacct can help your business?
Get in touch to discover how we can help you see the bigger picture with your business performance.
Get in Touch
Testimonial
Financial management can be daunting, but Sage Intacct really is a game changer: it makes numbers friendlier. It's a great tool that helps us understand the story behind the data as we can slice and dice it in different ways.
Place2Be
SAGE INTACCT DIMENSIONS FEATURES
Flexibility in reporting
Get more accurate information
Slice-and-dice your financials
Standard dimensions for success
Add new dimensions on your terms and timetable
Explore More of Sage Intacct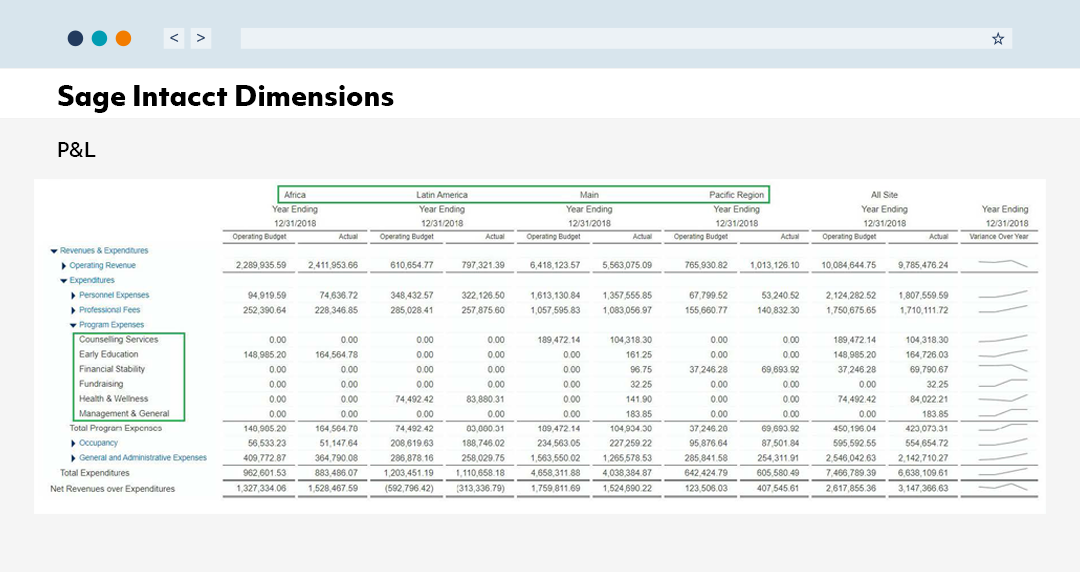 Take Our
Self-Guided Tour
An award-winning, cloud-based platform, Sage Intacct integrates with existing tools and automates tedious processes around billing, accounting and reporting to free up your team, easily track your finances and work more efficiently.
Take our Sage Intacct product tour and discover why it's the most in-demand software for growing SMEs in the UK.