Sage Intacct

Dashboards & Reporting
Sage Intacct gives you the deep operational and business-performance insights that tell you why, and the real-time view that enables you to act on your data immediately.
Overview
Benefits
Features
FASTER, CONFIDENT DECISION-MAKING
Here's the situation – the pressure is on to expand the breadth, accuracy, and granularity of your financial and management reporting. Your stakeholders want to know more about what's happening and they want to know why. You need to surface this information quickly to correct problems and respond to opportunities before the moment is lost.
With Sage Intacct's dashboards, you have the agility and flexibility to dissect the details that matter to all key stakeholders quickly. And when you have new questions, dive deeper into your data with custom reports, dashboards, and visualisations, to reach the answers you need for faster, confident decision-making.
SAGE INTACCT DASHBOARDS & REPORTING BENEFITS
See every dimension of your business
Easily create reports, graphs, dashboards, and visualisations that analyse performance by business driver. When you use dimensions to tag transactions and store financial or operational data along with its business context, you will fundamentally improve your reporting – and get fast answers to your business questions. Sage Intacct reporting and dashboards include built-in dimensions for capturing and reporting on business context. You can also create additional custom dimensions to track other business drivers.
Get the reports you need, the way you want them
Create reports that go deeper by drawing on your combined financial and operational data. What's more, you can drill down to source transactions for immediate, granular details or easily view consolidated reports without waiting for period-end. With Sage Intacct, you can do it all without exporting data to a spreadsheet, writing custom scripts, or waiting for someone to customise reports. Take advantage of more than 150 pre-built accounting and financial reports – or build and customise your own reports right from within Sage Intacct. With flexible scheduling and delivery options, like email and cloud, you can get reports when you need them, where you need them.
Give stakeholders the insights they need
Display real-time reports, metrics, and insights tuned to the needs and perspectives of all stakeholders – in finance, sales, operations, and the boardroom – wherever and whenever they need them. Dashboards provide at-a-glance views of what matters most: cash balances, project profitability, deferred revenues, revenue per square foot – practically any ratio or metric you need. Data visualisation features let you easily flag important trends, display critical comparisons, highlight missed or hit targets, and more. Skip the hassle of exporting data to a spreadsheet or presentation program and emailing it; instead, just build a dashboard once, then let Sage Intacct update it for you in real-time.
Let's Talk
Are you interested in learning how Sage Intacct can help your business?
Get in touch to discover how we can help you see the bigger picture with your business performance.
Get in touch
Testimonial
Through the dashboards and various functions, it demonstrates changes, trends, anomalies and performance on a daily basis, so that we can carefully assess when things might need intervention or action to optimise any area of our operations.
Umbel Restaurant Group
TOOLS THAT MAKE A DIFFERENCE
Dimension-driven reporting: Access or create reports that analyse real-time business performance by business drivers – without having to manage a complex chart of accounts.
Out-of-the-box functionality: Use pre-defined financial reports and dashboards out-of-the-box, and add more to reflect your unique business drivers.
Flexible delivery options: Share real-time views on dashboards, through email, or in the cloud. Archived copies can be kept directly in Sage Intacct or published to a cloud repository of choice.
Built-in financial & operational reports: Get financial and metric data – like square footage, available rooms, SaaS metrics or other statistical measures that matter to your business.
Drilldown capabilities: Drill down to source transactions and attachments for financial transparency. Flag trends and spot exceptions with powerful report visualisation. Sage
Intacct keeps tabs on the historic workflow and audit trail, so you don't have to.
Tailored views: Tailor the reporting experience for different stakeholders by controlling who sees real-time reports and who sees period-end views.
KPI visibility: Select key performance indicators (KPIs) to track on your dashboards.
Slice and dice data: Slice and dice your data across dimensions to get different views without producing individual reports.
Visual indicators in reports: See the information that matters the most with visual indicators that draw your eye. If you're over budget, you'll see it immediately.
Explore More of Sage Intacct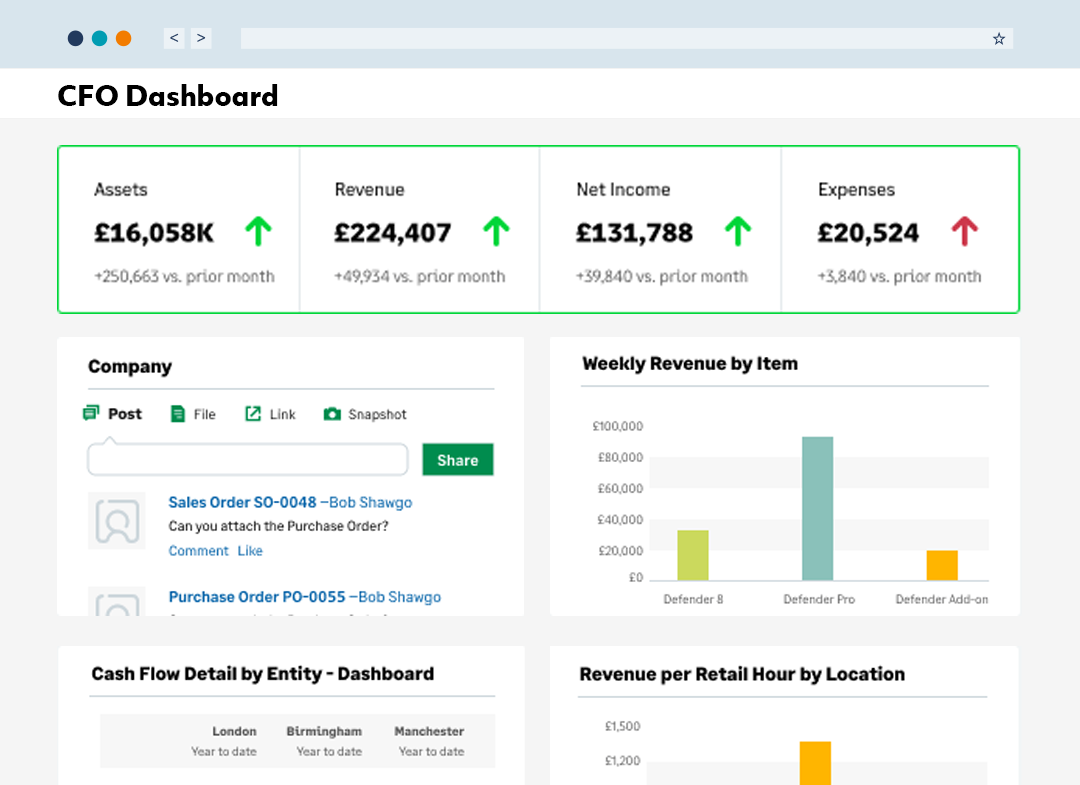 Take Our
Self-Guided Tour
An award-winning, cloud-based platform, Sage Intacct integrates with existing tools and automates tedious processes around billing, accounting and reporting to free up your team, easily track your finances and work more efficiently.
Take our Sage Intacct product tour and discover why it's the most in-demand software for growing SMEs in the UK.