Sage Intacct
Order Management
Sage Intacct software removes the manual work from multi-channel order management.
Overview
Benefits
Features
SAVE TIME, IMPROVE ACCURACY & INCREASE PROFITABILITY
Streamlining even the most complex quote-to-cash processes, cloud-based Sage Intacct order management software is sophisticated enough to handle higher order volumes, order processing complexity, inventory challenges, and pricing structures.
The result? An order-management system that saves time, improves accuracy and increases profitability.
SAGE INTACCT ORDER MANAGEMENT BENEFITS
Enter orders once
Save staff hours, cut costs, and reduce errors. Simply input a new order once and you're done: the order automatically flows to fulfilment, billing, revenue accounting, and everywhere else you need it to go. Sage Intacct order management automates your unique order management workflows and pricing requirements using easy-to-configure templates.
Make the sales connection
Improve customer service and customer satisfaction with a financial management system that integrates seamlessly with Salesforce Sales Cloud. Sales and finance groups can share pricing data, order status, and other information, while you generate orders and subscription invoices – without entering the data twice. The Sage Intacct system also integrates seamlessly with Avalara sales tax software, so you can automatically calculate and apply the right sales taxes as well as comply with regulations in any jurisdiction.
Measure report & improve
Give sales and financial teams the clearest view of relevant, real-time data. Track your order fulfilment rates, sales numbers, and inventory quantities. See the true drivers of business performance, such as which products, sales reps, and customers are driving the most profit – and why. If you can ask it, Sage Intacct can answer it.
Let's Talk
Are you interested in learning how Sage Intacct can help your business?
Get in touch to discover how we can help you see the bigger picture with your business performance.
Get in touch
Testimonial
Through the dashboards and various functions, it demonstrates changes, trends, anomalies and performance on a daily basis, so that we can carefully assess when things might need intervention or action to optimise any area of our operations.
Umbel Restaurant Group
SAGE INTACCT ORDER MANAGEMENT FEATURES
Automatic order creation from quotes
Order management document generation
Calculations
Best practice templates
Streamlined services and billing processes
Defined prices and discounts
Flexible pricing options
Price list report
Order analysis reports
Sales analysis reports
Dashboards, reports and performance cards
Custom analysis
Explore More of Sage Intacct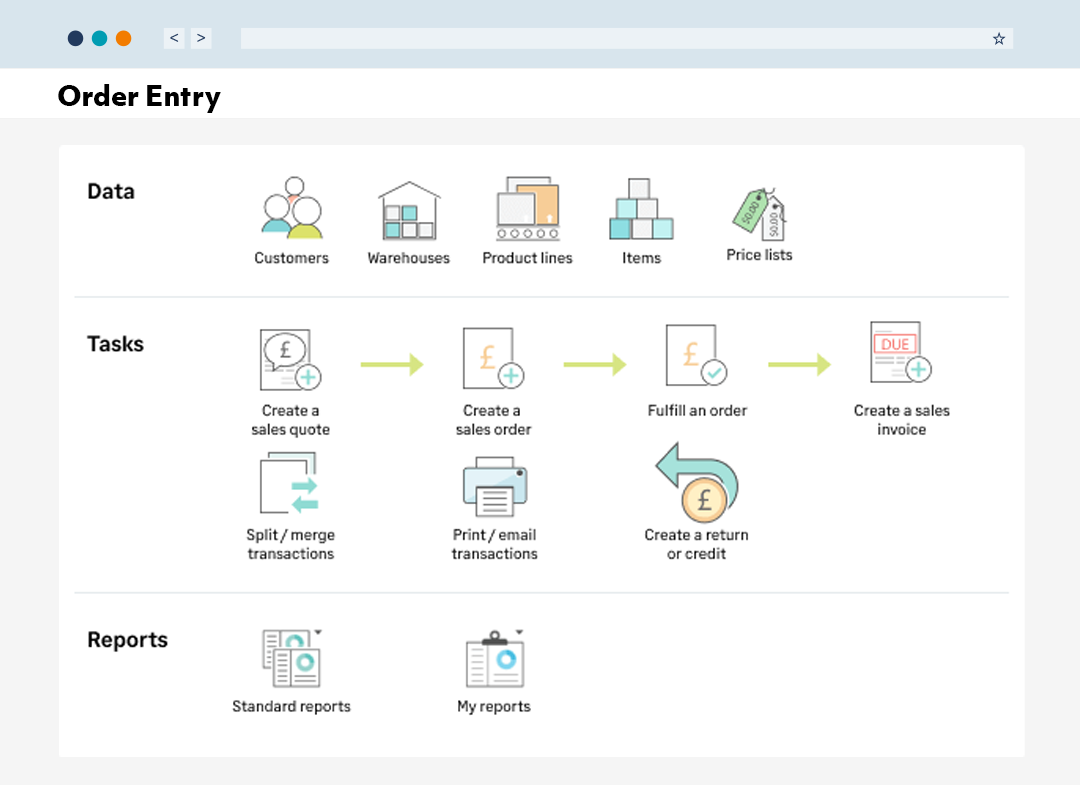 Take Our
Self-Guided Tour
An award-winning, cloud-based platform, Sage Intacct integrates with existing tools and automates tedious processes around billing, accounting and reporting to free up your team, easily track your finances and work more efficiently.
Take our Sage Intacct product tour and discover why it's the most in-demand software for growing SMEs in the UK.