Sage Intacct


for Non-Profits
Sage Intacct accounting solutions for non-profit organisations are designed to help you engage your workforce and easily manage donations and funding. Bringing together core business functions to free up time spent on lengthy admin tasks, so you can focus on helping the community.
Cloud-Based Finance


for Charities & Non-Profits
Non-profit organisations have to comply with many accounting rules and regulations. With grants and donations collected across multiple income streams, it can be challenging to keep track of cash flow and provide up-to-date and accurate activity statements.
With tight budgets and a need to diversify revenue streams, charities need to ensure their funding is maximised and used effectively.
Our Sage Intacct accounting solutions provide greater control over your finances, improving operations, minimising costs, increasing transparency and ensuring compliance with industry and international legislation.
Benefits of Sage Intacct for non-profits:
Real-time operational and financial visibility

Robust financial and regulatory reporting

Accelerated billing and collections

Support multiple locations and entities

Automated revenue management

View role-based dashboards and performance cards

Integrate with existing systems for a complete view of your organisation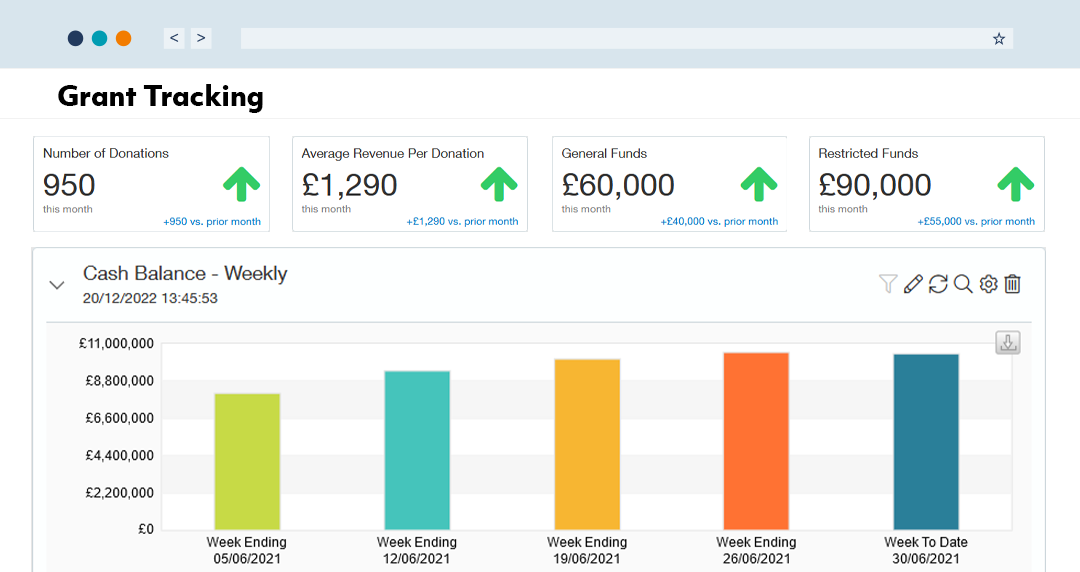 Industry-Ready


Finance Software
Forget the headaches of spreadsheets, manual reconciliations, and reporting delays; our Sage Intacct solutions will keep your organisation agile. Letting you filter, slice, drill down, and share the data that matters most to your business.
We're proud to work with several non-profit businesses including educational, community improvement, healthcare, and membership organisations.
Must Have

Features
Running a charitable organisation is no easy task. Registered charities and non-profits have many unique requirements when it comes to their finances including tax reports, gift aid and grants.
Accounting Software for Non-Profit Organisations
Fund Accounting
A common feature that non-profit organisations need is fund accounting. These are funds which a trustee of a charity needs to spend in a specific way or purpose as agreed when donated. Many non-profits receive hundreds of grants and directed donations in separate income streams, and donors rightfully want to know how their investments are being used. Our Sage Intacct fund accounting creates separate closes for each revenue source along with a regular series of specific reports, each with its unique requirements, for every funder.
Speedy Consolidations
Forget the headaches of spreadsheets and complex manual reconciliations. With push-button consolidations, our finance systems offer fast closings with real-time analytics – in minutes, not weeks – for maximum impact on your non-profit's performance.
Integration
Integration with existing systems such as donation platforms, fundraising tools, charity CRM and membership management software, is a modern necessity for charities needing to see the bigger picture when it comes to performance. Our cloud-based accounting solutions can help you to do just that. With integration into third-party applications as standard, you can gather, display and analyse all the key data that drives your organisation in a simple, standardised manner.
Let's

Talk
Interested in learning more about Percipient and Sage Intacct?
Complete the form to request a call-back from a member of our team.
Get in Touch