Sage Intacct

Collaborate
Sage Intacct Collaborate puts everyone on the same page to improve communication and teamwork.
Overview
Benefits
Features
SAY GOODBYE TO COMMUNICATION BARRIERS
Open communications are vital for any organisation's performance and success. Unfortunately, companies can inadvertently develop siloed communications that slow down or even derail critical financial processes.
Overcome these barriers, increase productivity, and facilitate knowledge sharing with Sage Intacct Collaborate, a secure social layer included in your Sage Intacct cloud financial management subscription.
SAGE INTACCT COLLABORATE BENEFITS
Synchronise your various finance and sales teams by enabling transparency and promoting collaboration. Realise the productivity gains by easily resolving non-routine transactions on a single system of record with Sage Intacct Collaborate.
Track multiple conversations in one place, raising awareness of the issue to all involved
Work with one click – see all related messages in a single view
Inform and stay informed by leaving notes on tasks and issues
Communicate about specific journal entries, accounts, projects, invoices, and more inside Sage Intacct
For sales teams, these same conversations appear in Salesforce Sales Cloud
Improve communication and teamwork, and make data-driven decisions
Salesforce finance employees can easily join the Salesforce Chatter network, right from within Sage Intacct
Let's Talk
Are you interested in learning how Sage Intacct can help your business?
Get in touch to discover how we can help you see the bigger picture with your business performance.
Get in touch
Testimonial
Sage Intacct delivers truly end-to-end finance, but in reality, it does so much more than that.
The Other House
SAGE INTACCT COLLABORATE FEATURES
One-click visibility
Constant Visibility
Automated alerts
Group messaging
File attachments
Unify conversations
Mobile chatter notifications
Easily resolve non-routine transactions
System of record
Create collaboration groups
Explore More of Sage Intacct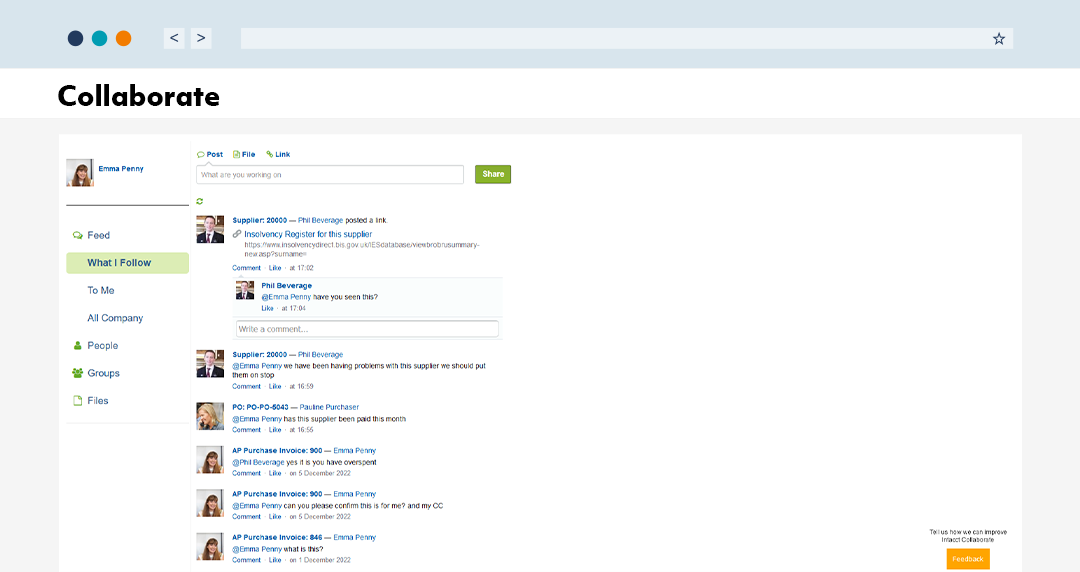 Take Our
Self-Guided Tour
An award-winning, cloud-based platform, Sage Intacct integrates with existing tools and automates tedious processes around billing, accounting and reporting to free up your team, easily track your finances and work more efficiently.
Take our Sage Intacct product tour and discover why it's the most in-demand software for growing SMEs in the UK.