Sage Intacct

Cash Management
Sage Intacct cash management software helps you to improve cash flow through improved visibility.
Overview
Benefits
Features
IMPROVED CASH FLOW FOR YOUR BUSINESS
Gain insight into cash position and adjust your processes with Sage Intacct cash management software.
Using it as part of the Sage Intacct financial management system can reduce DSO by 25–50% to free new cash flow or uncover overlooked revenue.
SAGE INTACCT CASH MANAGEMENT BENEFITS
Multi-location management
Sage Intacct cash management software shows you all of your payments and transactions across all current accounts, savings accounts, and credit cards. You see it all in real-time, across multiple locations and entities, so you're always in control of your cash.
Automated bank reconciliation
Automatically import statements and reconcile your checking, savings, and credit card accounts in minutes. Sage Intacct helps you spot exemptions, manage bank errors, monitor fraud and maintain accurate cash balances.
Day-to-day cash activities
Sage Intacct provides the flexibility you need to meet your daily cash activities. You can apply payments to accounts not tied to an invoice or record POS payments not applied to a single customer. Print cheques quickly or generate payment runs using the bill-focused payment cycle. You can also transfer cash funds across accounts to other locations and entities when you need them.
Connect your bank
Save time, stay secure, and say goodbye to admin. Connect your bank with Sage Intacct and create automated bank feeds. This enables data to be automatically matched to your invoices, payments, and purchases, saving you time and improving data accuracy.
Let's Talk
Are you interested in learning how Sage Intacct can help your business?
Get in touch to discover how we can help you see the bigger picture with your business performance.
Get in touch
Testimonial
We can easily view spending across all departments and consolidate insights for an overall view of the organisation at any time.
RABI
SAGE INTACCT CASH MANAGEMENT FEATURES
Apply and record payments
Daily cash management needs
Reduced audit risk
Bank support
Automated reconciliation
Error-free maintenance
Visibility across dimensions
Real-time updates
Explore More of Sage Intacct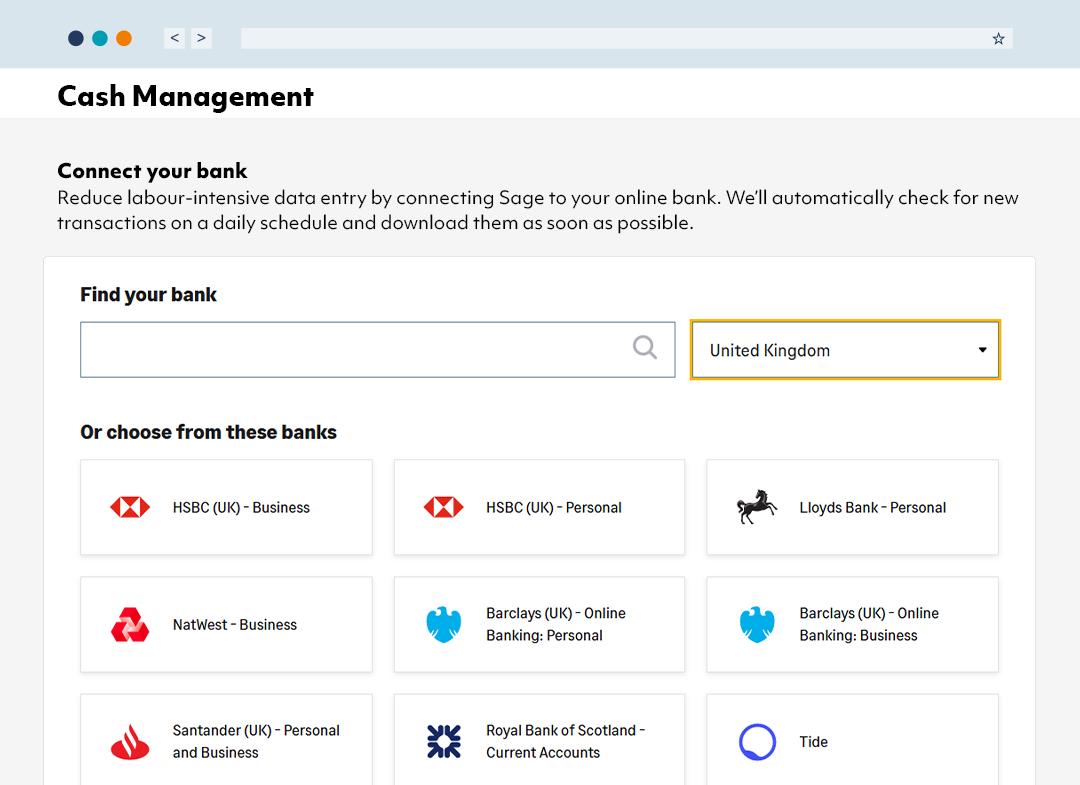 Take Our
Self-Guided Tour
An award-winning, cloud-based platform, Sage Intacct integrates with existing tools and automates tedious processes around billing, accounting and reporting to free up your team, easily track your finances and work more efficiently.
Take our Sage Intacct product tour and discover why it's the most in-demand software for growing SMEs in the UK.