Dan Clibbens, looks at how Sage Intacct's flexible, modular design is underpinning much needed flexibility for businesses in 2021 and beyond.
As organisations reflect, review and revamp business strategies for the coming years, flexibility and agility are at the top of the list when it comes to focusing on what's important.
In fact a recent report concluded by Forbes Insights highlighted that  managerial and organisational agility are critical elements of corporate survival, with 47% pointing to streamlined decision-making as a key means of achieving this, along with agile workflows and methodologies (46%) and employee engagement (40%). Almost all of those surveyed (87%) state that their businesses would be very agile by the end of 2021.
There's no doubt that digital is pivotal when it comes to agility, but are ERP systems really up to the task in hand?
ERP: A Journey
I suppose in short, the answer depends on how you view ERP, and which platform you opt for.
Traditional ERP really is a world away from the systems available today. Very much a system of record, a means of storing key business information from which to call upon as needed, capabilities are typically one-dimensional. The biggest problem with such systems now, is that getting information out of them is cumbersome, requiring manual intervention and re-keying of data to apply meaning to the data that is extracted.
Modern ERP systems have addressed this in the main, providing user-friendly interfaces and dynamic, real-time data exchange from which to optimise planning. However, one area which I find baffling, is that reporting, the cornerstone of such platforms, remains somewhat of an add-on for the majority.
While modern ERP systems claim to provide robust reporting, it typically falls short of what a customer actually needs, resulting in a need for additional investment to realise true reporting capabilities.
A New Approach: Sage Intacct
A new, truly modern approach to ERP, Sage Intacct is designed in the cloud, with reporting capabilities at its core. Recognising the gaps in modern ERP, it provides a flexible framework from which to customise, add and change elements to suit the specific needs and nuances of your respective business, quickly and easily.
Customisations might include new fields and templates, perhaps to support a need for project accounting for example, as well as transaction definitions and workflows or dashboards.
Flexible APIs within Sage Intacct enable easy integration with third party systems to maximise both the speed and depth of insights, and crucially, it's impossible to configure any aspect of the platform such as the core code, as this would inevitably impede scalability and the associated fluidity.
With easy to access insights and highly effective reporting as standard, the user experience is intuitive and requires virtually no training, expediting adoption and driving value quickly.  Not only does this facilitate control and confidence for customers, it also represents a win-win in project delivery as expectations are met fully and discussions around additional investment to bridge functionality gaps are avoided.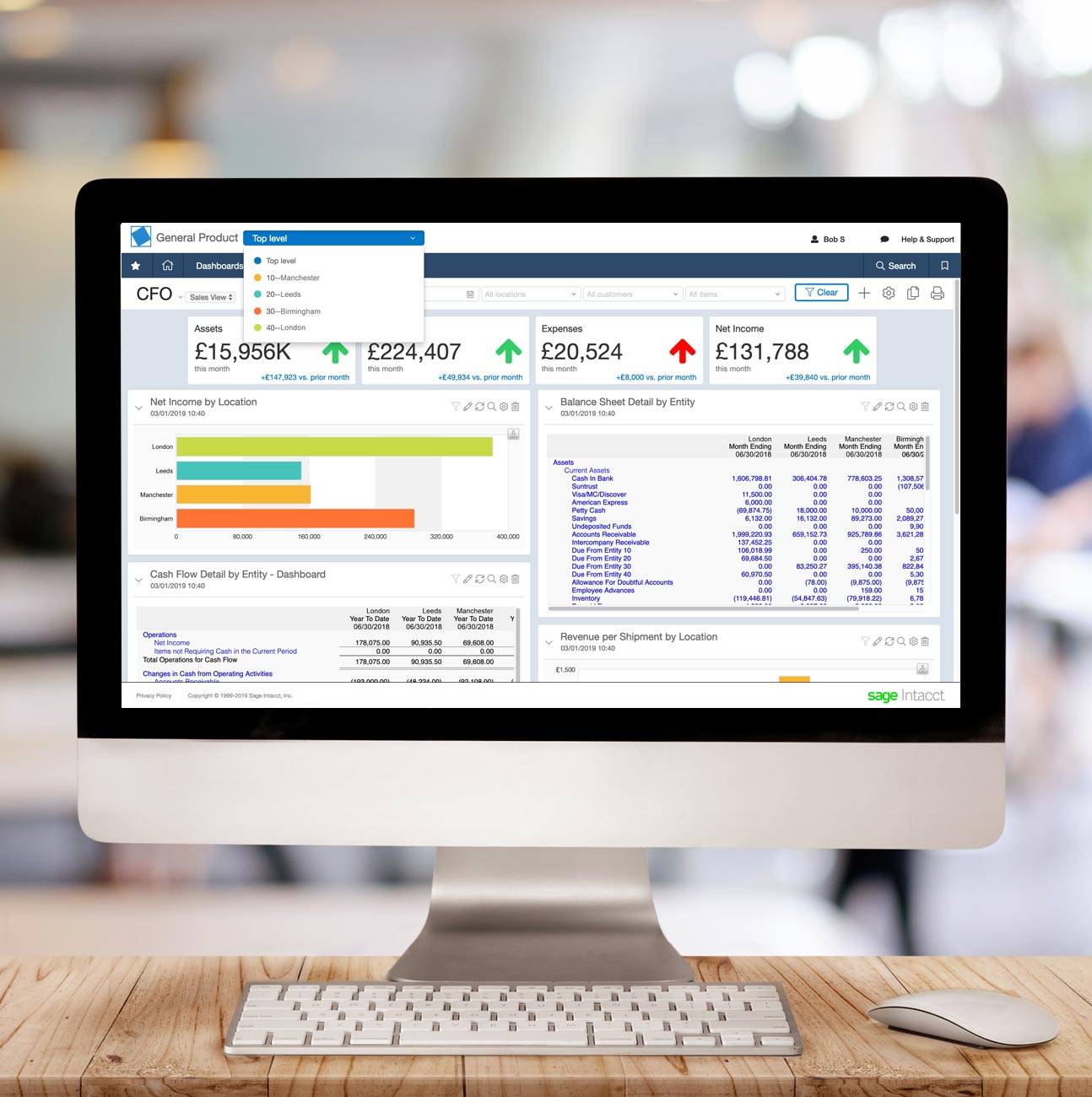 Scalability comes as standard as all updates and upgrades occur automatically and are delivered via the cloud. This means that the version is always current, which in itself, eliminates headaches, expensive projects and potential downtime. And because suggestions for new capabilities are put forward by the Intacct community continually, updates can often provide solutions to problems which have yet to emerge for a user.
The frequency of upgrades, combined with the intuitiveness of the system brings a fluidity to the platform, and means that adjusting to new functionality is akin to those users experience on their laptops or phones.
A Long Overdue Image Overhaul for ERP
ERP has a reputation for being useful, but joyless. Intacct and its easy to use, intuitive modular design, with reporting at its core to deliver the insights businesses need, is bringing some much needed joy to users, which in turn stands to expedite the much needed agility driving businesses forward in 2021 and beyond.
Contact Percipient
If you'd like to know more about Percipient or how Sage Intacct could benefit your business, get in touch or call us on 01606 871332.