Specialist burger restaurant group enhances visibility and intelligence with Sage X3 and Percipient.
About Five Guys
Five Guys started out in Arlington, Virginia back in 1986 when Jerry and Janie Murrell offered advice to their young sons: "Start a business or go to college". The business route won and the Murrell family opened their first burger joint named, simply, Five Guys – after the five brothers.
Five Guys launched its first UK store in Covent Garden on the 4th of July 2013. The restaurant group now has 89 restaurants across the UK, and a further 30 across Germany, France and Spain.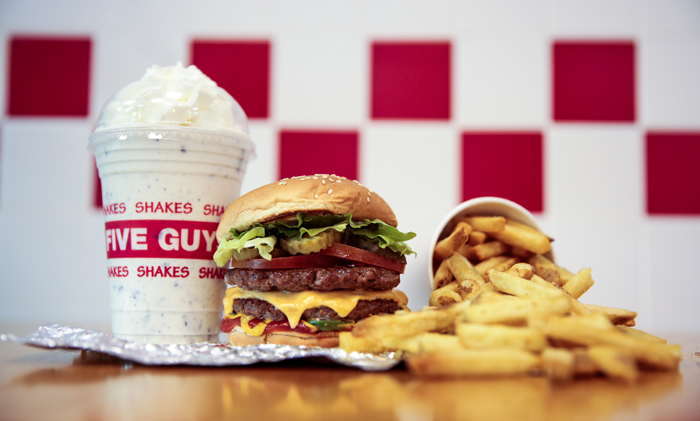 A Global View
In the wake of this expansion, Five Guys (UK) had outgrown its previous system, Sage 200, and needed greater consolidation and reporting capabilities to drive consistency across all European territories within the group. Against this backdrop, the restaurant group's executive team set about procuring a system which would allow all financial information to be available in a central platform so that it could be viewed, analysed and used to underpin better decision-making.
Five Guys' chosen solution had to meet both local legal and regulatory frameworks, while facilitating a centralised, common view of its European business, specifically in the UK, Germany, France and Spain.
Percipient were invaluable in ensuring the deployment went smoothly and that we have all the tools and training at our disposal to get the very best out of the solution.
Ingredients for Growth
As part of the modernisation project, Five Guys selected a solution comprised of Sage X3 Finance; Sage Enterprise Intelligence (SEI); and cloud-based YooZ OCR for Sage, through business software consultancy, Percipient.
Deployed in 2018 for 12 users in the UK and 25 across Europe, Sage X3 Finance now supports all aspects of Five Guys' financials, including personnel, cost and budget accounting, commitments, and fixed assets. Complemented by Sage Enterprise Intelligence, which delivers enhanced reporting and analytical capabilities, and YooZ OCR for Sage for document management, the solution drives greater efficiency and visibility, allowing the executive team to plan and forecast more insightfully and accurately.
"Percipient were invaluable in ensuring the deployment went smoothly and that we have all the tools and training at our disposal to get the very best out of the solution," comments Jen Kim, Finance Manager, Five Guys. "Their consultants are really helpful with excellent product knowledge.  They genuinely understood the challenges we were facing and exceeded our expectations in suggesting and recommending options to address these. We had absolute trust and confidence in them and the level of service we received was second to none."
The Proof of the Pudding
"Using Sage X3 Finance, we are now able to get a full view of our European operations in real-time, allowing us to make decisions that impact the short, medium and long term," she continues.
"Crucially, the solution allows us to support all GAAP and local legal and regulatory accounting frameworks, while consolidating information in one place. This visibility and consistency is hugely valuable as we can track trends, investigate anomalies, and respond to demand more closely than ever before.
"With Sage Enterprise Intelligence (SEI), we are able to create more detailed, flexible reports at the touch of a button.  Intuitive and easy to use, the BI solution enables our users to access a wealth of data in a contextualised, timely manner, while YooZ OCR software for Sage, a document management tool built on the principles of optical character recognition, will save huge amounts of time and manual labour. Through extracting relevant data from invoices quickly, and automatically checking for duplicate transactions, the system allows the team to upload invoices and secure approval of them in a live environment, reducing manual data entry and eliminating manual errors."
One of the key benefits of using Sage X3 is that when Five Guys opens restaurants in a new territory, they can be integrated much faster, expediting operation and potentially reaping profits earlier. This process has the potential for complexity, but Sage X3 Finance streamlines the processes involved by presenting a uniform set of information about each restaurant.
"The platform genuinely saves inordinate amounts of time as we no longer need to go hunting for data and build a picture ourselves – Sage does everything," Kim adds. "We can now view meaningful, contextualised information, in the same format, on a daily basis to contrast different countries and analysis to ensure we are always on the front foot."
Another key feature which has proved hugely beneficial for Five Guys is the journal for nominal accounts, as information can be input in draft form, saved and then completed as available, against pre-set rules. Through allowing users to go in and update the draft journal as information becomes available they have greater flexibility over their time, boosting both productivity and morale.
A Confident Future
"Looking ahead, we plan to make greater use of system and establish some Key Performance Indicators from which to benchmark and compare performance across different countries," she concludes.
"Success in the modern world is all about making the right decisions at the right time, and this can only be achieved through having access to the right information, in the right format, in a timely manner.  Supported by insight and expertise from Percipient, Sage X3 Finance with SEI and YooZ OCR has enabled us to have the visibility we need in order to continue on our growth journey with the right platform at our helm."
For more information about Percipient or how we can help to prepare your business for growth, get in touch or call us on 01606 871332.