Tour boat operator lays the foundations for future business growth
with Percipient and Sage X3 Finance and Distribution.
About City Cruises
City Cruises Plc has been carrying passengers along the Thames since 1985 and is now the biggest tour boat operator on the River Thames, carrying out more than 4 million passenger journeys each year on its route through the heart of London.
Driven by innovation, investment and a commitment to customer service, City Cruises has pursued a strategy of growth over the years, including the 2002 acquisition of the Restaurant Ship, Hispaniola. 2014 saw the business expand outside London for the first time, offering cruises from Poole Quay in Dorset, and further expansion in 2017 resulted in the creation of City Cruises York, helping visitors to see one of the UK's most popular destinations.
Managing Growth
As City Cruises expanded to take on new locations and new products, it became clear that the business's incumbent Sage 50 system wasn't offering the levels of functionality needed for multiple sites and product offerings. As City Cruises' financial director, John Rowthorn, explains: "We soon became aware that we needed a way of accurately and effectively recording the different products that we sell with a view to monitoring performance and allocating resources accordingly. Operating across three sites and with such a diverse portfolio of products under the City Cruises umbrella, we wanted to make sure we had the right information available to allow us to make the best decisions for the business, as well as a scalable solution which would grow alongside the business."
With this in mind, the business put together a brief for a scalable enterprise management solution with advanced multi-dimensional and multi-location financial analysis and reporting capabilities. As John continues: "We had a specific budget in mind, which ruled out certain systems from the outset, but we definitely weren't willing to compromise on functionality. From a shortlist of six or seven, we whittled this down to two, one of which was Sage X3 Finance and Distribution through business software consultancy, Percipient."
Percipient's product knowledge and understanding of how our business could best make use of the technology, taking full advantage of the system's capabilities to grow our business while the solution scales up alongside, was second-to-none.
A Good Fit
After thoroughly assessing the two different solutions, the board of directors at City Cruises selected Sage X3 Finance and Distribution, based on its strong fit for the business in terms of both functionality and scalability, along with the expertise and added value that Percipient brought to the relationship.
John explains: "The Sage solution provided the multi-dimensional reporting dashboards we were looking for, as well as the scalability to expand the business not only in the UK but overseas too, all delivered via a single platform for all three locations. Percipient's product knowledge and understanding of how our business could best make use of the technology, taking full advantage of the system's capabilities to grow our business while the solution scales up alongside, was second-to-none. Also, we felt that there was a great deal of synergy between our two companies, and that culturally we were a good fit, which resulted in confidence that we would benefit from high quality, consistent support, something that you don't always get with larger software partners."
John comments: "The team at Percipient delivered excellent product training with further refresher training at the point of go-live. The product support we receive is second to none too – the entire team is extremely knowledgeable about the software and very thorough in dealing with any problems or queries we might have."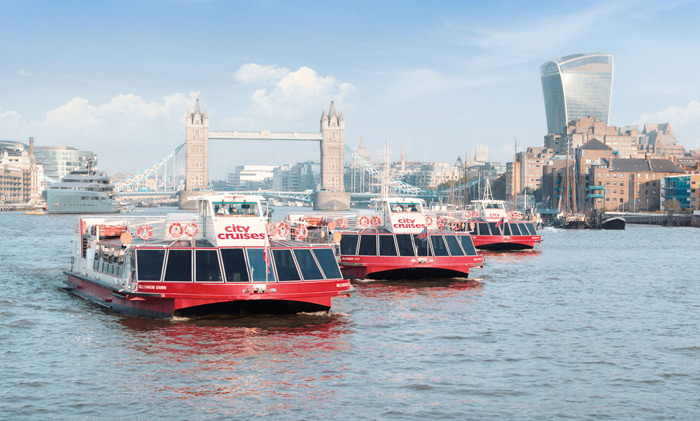 Ship-Shape
With 33 users across the three business sites, spanning finance, operations and senior management, City Cruises is already reaping the rewards of implementing the new system.
As John explains: "We are benefiting from quicker, more in-depth reporting, which enables us to monitor product performance much more closely and effectively. Previously we had to manually drill-down into reports to work back to find out how a particular product was performing, but we can now access all that information at the click of a mouse."
In particular, this is enabling the business to allocate resources to the most profitable product lines, speeding up decision-making and improving margins. John highlights crewing issues as an example: "One of the biggest issues we face is a lack of crew on certain days. With the new system, we can drill down into the financial reports to pinpoint our most profitable products. For example, showboat might be more profitable than the jazz cruise, so we know that it makes more financial sense to ensure that showboat is crewed, even if it's at the expense of another less-profitable product. We've never been able to do that before and it's making a real difference to our profit margins."
Plans on the Horizon
The business is currently implementing a new ticketing system which will soon be integrated into Sage X3 Finance and Distribution, bringing even more benefits to the business. As John continues: "At the moment, we're only recording on-boat sales but bringing the new ticketing system on board will provide us with more financial information than ever before, giving us a complete picture of the performance of the business at any one time. Previously we had to pull all this information together manually, but once the new ticketing system is up-and-running and fully integrated, the speed and accuracy of our decision-making will be taken to the next level, with daily revenue reports available on dashboards regardless of location, thanks to the system's mobile capability."
Having seen what they're achieving already with the software, John is confident that the business will continue to expand further.  He concludes: "The new system has given us greater confidence in our numbers, enabling us to quickly identify under performing products and to react quickly and effectively to address these. We're already looking forward to getting even more valuable information from the system once we go live with our new ticketing system and have no doubt that, with help and guidance from Percipient, the new solution will take our business from strength-to-strength, laying the foundations for future growth."
For more information about Percipient or how we can help to prepare your business for growth, get in touch or call us on 01606 871332.